NordicTrack Commercial 2150 Treadmill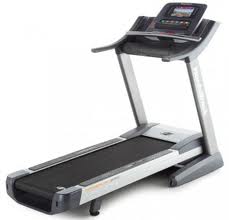 The Commercial 2150 treadmill is new for 2012 and the specs are quite impressive.
The motor is rated at 3.8HP, which is about as powerful as any motor you will find on a treadmill, and the 60 inch by 20 inch running deck is very roomy by any comparison and can handle a max user weight of 375lbs.
NordicTrack claims that their cushioning system reduces impact by 30 pct and the running deck folds up after use.
With one touch controls, rather than scrolling in small increment, the treadmill can incline up to 15% and decline minus 3 pct, while top speed is 12 MPH
The control panel on the NordicTrack Commercial 2150 Treadmill is in effect a 10 inch Android powered tablet or touch screen. With an internet connection, you can do anything while exercising you would otherwise do on your PC or iPad sitting in your office chair.
You also get a free 1 year subscription to iFit, which includes the ability to simulate outside runs with the help of Google maps, share results with others and download additional training programs.
The NordicTrack Commercial 2150 Treadmill comes with 36 built-in training programs, including several with full color videos.
While many treadmills include cooling fans, the 8 inch fan on the NordicTrack Commercial 2150 is larger than most.
As expected, the NordicTrack Commercial 2150 Treadmill also includes a docking station for a music player.
All in all, the NordicTrack Commercial 2150 Treadmill is impressive.
The warranty on the NordicTrack Commercial 2150 Treadmill is excellent, considering the sub $2,000 selling price, lifetime on the frame, 5 years on parts and 2 years on labor.