Healthrider H150i Treadmill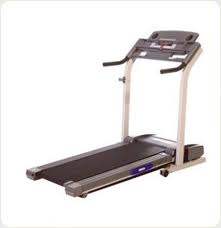 The Healthrider H150i Treadmill manages quite a rare feat, a $400 machine that actually would be worth considering if you are on a budget.
While compromises obviously has to be made to het that price that low, this treadmill still delivers respectable features and capabilities.
The deck on the Healthrider H150i Treadmill is 50 inches, with a nicely cushioned running surface.
The 2.25HP motor on the H150i Treadmill is surprisingly large at the $400 price and should be sufficient for a 10MPH top speed and 10pct incline.
The number of training programs is limited to 4 and the Healthrider H150i lets you track pulse rate with grip sensors.
The treadmill warranty of 3 years on the motor and 90 days on parts and labor is not stellar, but at the price as good as one should expect.
Note: The Healthrider H150i Treadmill has been discontinued.