Stamina InMotion II Manual Treadmill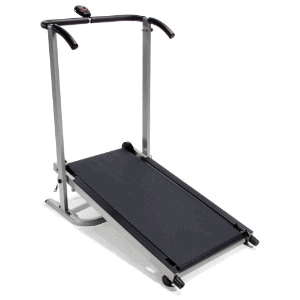 The Stamina InMotion II Manual treadmill is all about the cheapest way to get some exercise indoors.
The 4o inch walking deck is not powered by a motor, it simply allows you to walk in place at your chosen pace. There are 2 manual incline positions, 8 pct and 10 pct.
A readout gives you pace, time, distance, calories burned.
One benefit of the simplicity of the Stamina InMotion II Manual treadmill is a meager weight of 56 lbs and a foot print when folded of only 18 inches by 26 inches
Warranty is as basic as the unit, 1 year on the frame, 90 days on parts.
The Stamina InMotion II Manual is easy to dismiss and certainly does not compare to even the simplest powered treadmill, but for someone on a restricted budget who needs to get some exercise into their life, it beats doing nothing.
In reality, a lot of people rate it quite highly.