Sole S73 (2011) Treadmill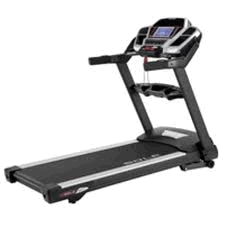 The Sole S73 treadmill is Sole's lowest priced non folding treadmill, but it still offers a variety of features that many other models do not.
Until recently, the S73 was only provided to hotels, gyms, and other large businesses, but is now available to purchase for home purchase.
The Sole S73 is a larger than average frame to accommodate a 20" by 60" running space that inclines to 15% and a rack and pinion gear design.
This is all powered by a strong, 3.0 HP, high torque motor able to accelerate to any speed between 0.5 and 12 MPH - the entire running service padded using Cushion Flex Shock Absorption™.
The maximum user capacity for this treadmill is 350 lbs.
The Sole S73 has 6 pre-set programs and room for 2 more that are user programmed.
Incline, Speed, Calories Burned, Distance Traveled, Time, Pace, and Pulse are all displayed on a scrolling blue LCD screen, along with a Peak and Valley visualize to let you know when you are on a climb or descent.
You can control all the functions directly on the console, or adjust speed and incline with buttons installed on the arm rests.
This model treadmill has pretty much every "extra" there is to offer, including built-in speakers and MP3/Ipod dock, 2 cooling fans, and 2 heart rate programs – including a wireless chest strap for heart rate monitoring which Sole includes with the Sole S73, a nice touch.
You can also use the contact grips for checking your pulse rate.
The Sole S73's frame, motor, and deck are all covered under lifetime warranty, the belt, roller and electronics are covered for 5 years, and in-home labor is covered for 2 years.
You don't have to worry about durability with any Sole treadmill, and the S73 adds a long running deck with nice features at an attractive price